For a limited time, free ground shipping is valid for qualifying orders of $100 or more before taxes.
The qualifying lower 48 U.S. states will be sent via economy ground shipping unless an expedited shipping option is chosen for an additional cost. This promotion is not applicable towards orders that contain Hemlock Hats, Luggage, ENO Stands, YETI Coolers, or physical gift cards. Cannot be redeemed for cash. Terms of offer are subject to change.
Free Pickup In-Store or Crubside
Don't want to wait for delivery? Buy online and pick it up in store—for FREE! Take advantage of this great free program from Eagle Eye.
Orders can be picked up 9:00 AM - 6:00 PM, Monday-Saturday. We will email you when you're order is ready for pickup.
If you'd like to pickup curbside, drive over to 3535 Ross Clark Circle, and head to the side of the building where the employee entrance is located. Look for the curbside pickup sign and park in one of the open spots. Call (334) 796-8902 to let us know you're here. We'll ask for your name and what type of car you're in. You can remain in your car and we'll bring your order out to you. You will need your order number and name for verification.
If you'd like to pickup in-store, head inside and speak to a cashier at the register. They will happily retrieve your order.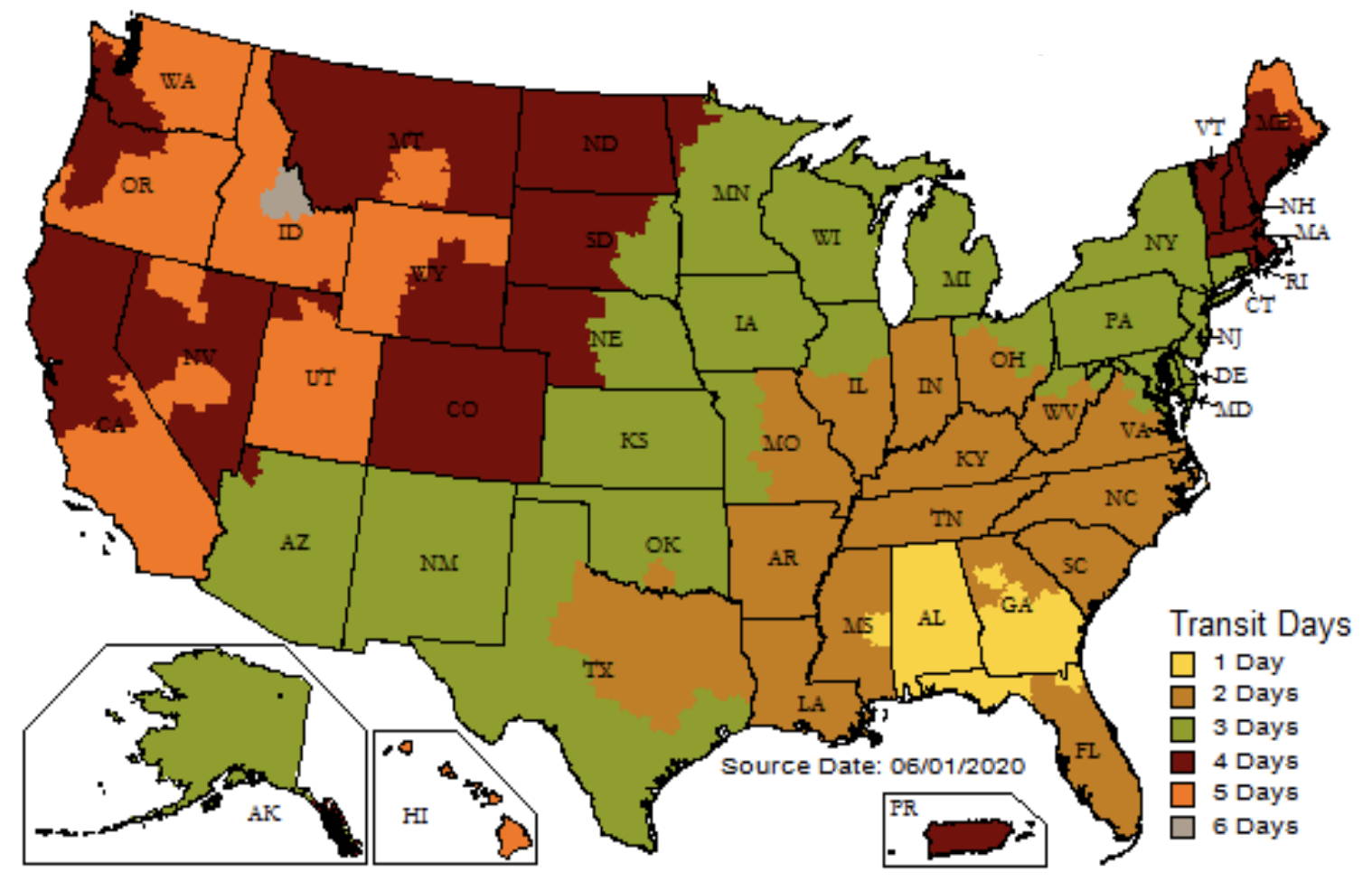 Our ground shipping map (above) illustrate the number of transit days required for a UPS delivery.
Shipping Speed Notes & Restrictions
2-Day

not

available with oversized orders
Next-Day

not

available with oversized orders
Alaska / Hawaii - While we can ship packages to Alaska and Hawaii with Expedited shipping methods (2-Day, 1-Day) they are not always guaranteed by UPS based on the final destination and there could be a delay of 1 business days. Free shipping on $50+ Orders is not valid to Alaska or Hawaii.
International -

At this time we are not accepting international orders. Sorry for the inconvenience.

Subject to the Tariff/Terms and Conditions of Service, UPS guarantees on-schedule delivery of packages, shipped via UPS's services, that are listed as guaranteed, or will refund your transportation charges. Guaranteed Service is not available in all areas and does not apply to shipments containing a package with an Additional Handling or Large Package surcharge. Scheduled business days and delivery schedules are revised occasionally due to changes in distribution and volume, especially during holiday periods. Service to some remote areas also may require additional delivery days. For current delivery schedules, service availability and information, and a description of the UPS service Guarantee, see the UPS Rate and Service Guide. The most up-to-date transit time details will be available at ups.com/ctc at the time of shipping. Certain commodities and high value shipments may require additional transit time for customs clearance.
Planning ahead can help reduce costs and stress, and ensure that your packages arrive on time. We're committed to helping you take full advantage of every available shipping day.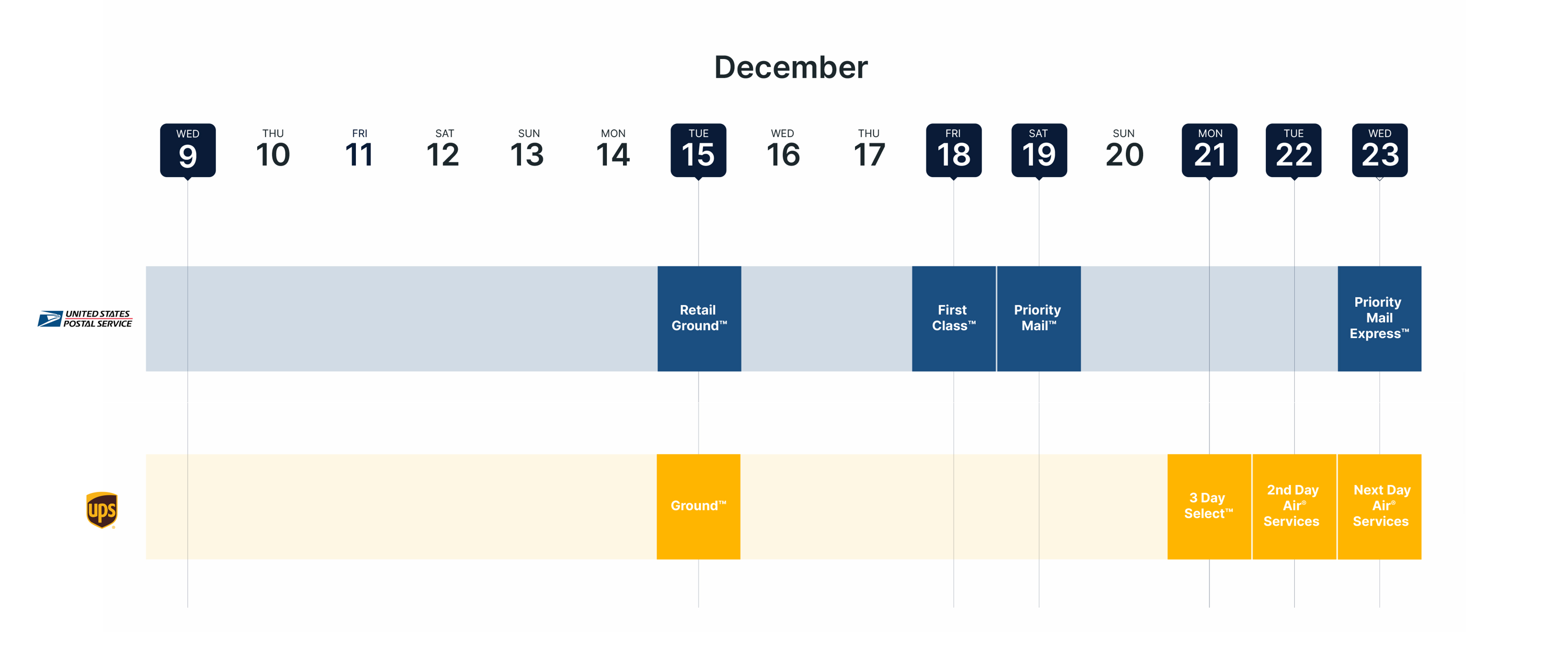 ---
When will my order ship or be ready for pick-up?
Once your package ships, we will send a follow-up email with tracking. Shipping orders placed before 3:00 PM CST will be shipped out same day Monday - Friday. There is no UPS/USPS shipping or delivery on Saturday &/or Sunday.
Once your package is ready for pick-up we will send a follow-up email notifying you. Pick-up orders usually take 2-3 hours to be processed and if placed after 3:00 PM CST will likely not be ready for pick-up until the following morning. Orders can be picked up during business hours Monday - Saturday at our Dothan store location, 3535 Ross Clark Circle.
Do I have to pay sales tax?
Per Federal law, Eagle Eye Outfitters must charge for sales tax in states we have a physical store, so Alabama is subject to sales tax. Due to the Supreme Court ruling from Wayfair vs. South Dakota we also must charge sales tax to customers living in Georgia, Florida and Kansas.
How to find a missing package that shows as delivered or what do I do if my package is stolen after delivery?
If your tracking information shows that your package was delivered, but you can't find it:
Verify the shipping address
Look for a notice of attempted delivery
Look around the delivery location for your package
See if someone else accepted the delivery
Some packages travel through multiple carriers; check your mailbox or wherever else you receive mail

Wait 36 hours - in rare cases, packages may say delivered up to 36 hours prior to arrival
If the package has still not arrived, file a lost/stolen report with your carrier:
If you have a doorbell camera or outdoor security camera with footage of packages being stolen, immediately contact the police and file a police report. Also, contact the carrier with the tracking number and file a claim. If you don't have a doorbell camera but seriously suspect something has been stolen from your stoop, call the police.

Falling victim to theft is never fun. We hope this guide will help you resolve the situation. Unfortunately, Eagle Eye Outfitters cannot be held responsible for packages after UPS or the Postal Service delivers the package. All orders are shipped FOB Shipping Point. As stated in our terms of use (2. C.), title to products passes from Eagle Eye to you upon shipment, and we are not responsible for any shipping delays or problems (including the risk of loss) once the product has been shipped. We do not issue refunds or credits in the event a package is stolen. We encourage you to open a claim with whoever delivered your package (UPS or the Postal Service) and we will be glad to help you navigate that process with their own customer service agents.
Do you ship to P.O. Boxes or APO/FPO addresses?
Orders being shipped to P.O. Boxes or Military APO/FPO addresses will only be shipped via US Postal Service. Please note, express shipping is not available to these locations.
Can I ship my order to someone else?
Yes, orders can be shipped to a different address than the billing address. After you enter your billing address during checkout, you'll have the option to enter a new shipping address.
How do I know when my order ships?
When your order ships, you'll receive an email confirmation with the tracking number(s) and estimated delivery date(s).
Do you offer free shipping?
We offer free ground shipping to the lower 48 states . Your order must be more than the promo amount specified before tax. This offer is for online purchases only. Free shipping may be combined with coupon codes and sale items. Free Shipping is not available on Coolers, Hemlock Hats, Bogg Bag, Luggage and ENO stands.
Do you offer free pickup instore or curbside pickup?
Same-day pickup orders will be available for pickup within 4 hours from the time you place your order. Orders placed after 3 pm will be available for pick up the next day. You will receive an email confirming your order and another one when your order is ready for pickup. We will hold your order for 7 days from when your order is ready for pickup. You can designate a pickup person during checkout or edit it later in order details. Please note, it may take up to 4 hours for the new pickup person to update. When you pick up your order go to the cashier's desk. Bring a Photo ID and copy of your Ready for Pickup Email (or show it on your phone).
What is your return policy?
If you are not happy with your purchase, you can return most items for a refund within 60 days of purchase as long as it is still in "sellable condition." View our full return policy here.
Since we cannot guarantee the new item you want will be in stock when we receive your returned item, we do not accept exchanges. If you'd like to "exchange" your purchase for another item, please return your original purchase and create a new order for the replacement item. Once we receive your returned item, we will refund the item's purchased price back to the form of payment you used for the original order. You can review our full return policy here.
How do I return a pair of shoes/boots?
If you're returning a pair of shoes or boots, we need the box back, too. Also, please don't treat the shoe box as the shipping box; wrap it in brown paper or put it in another box before you return it. If you fail to follow these directions, we will not be able to accept the return and won't issue a refund.
If I purchase in-store, can I return via mail?
Yes, when returning your in-store purchase via mail you will be issued a refund in the form of payment used for the purchase. In the event you used multiple forms of payment, your refund may be issued across all payment methods used. You cannot receive cash returns on purchases made with a credit card. Please review our full return policy for more details on returns.
If I purchase online, can I return in-store?
Yes, you may return your online purchase in-store. Please review our full return policy for more details on returns.
Where can I get a return form?
How will I be refunded for my return
Your refund will automatically go back to the original form of payment used for the purchase. In the event you used multiple forms of payment, your refund may be issued across all payment methods used. You cannot receive cash returns on purchases made with a credit card.
How long does it take to receive my refund?
Once we receive your return, we inspect your item(s) and then initiate a refund. Our goal is to process your return within three to five business days of receipt. Credits may take up to an additional five business days to post to your account. Given shipping and processing time, the return process can take up to two to three weeks. Final credit to your account depends on the policies of the bank or institution of your original payment method. Please note: refunds do not include shipping costs paid on your original order (if applicable).
---
Don't see the answer to your questions? Visit our FAQs page or contact us directly. Customer Service Representatives are available Monday - Friday from 10 AM CST to 4 PM CST. Call Customer Service Direct at 334-446-4971 or chat with us using the customer service support chat box at the bottom of this page.